2023 AGM
News Article about our 2023 AGM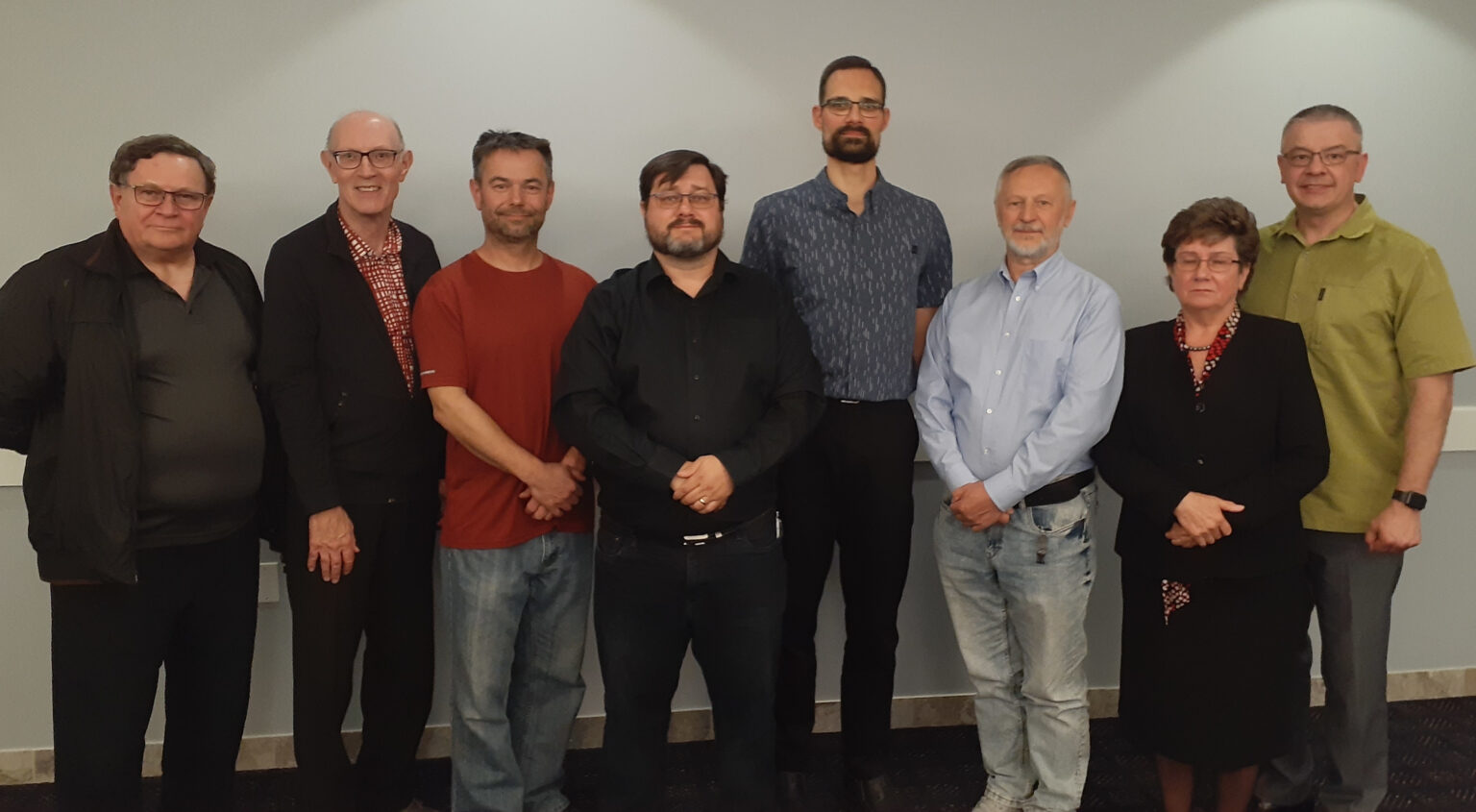 DR. KOWALCHYK ELECTED NEW UCPBAE PRESIDENT
Left to Right: Ilija Simcisin, Past President; Alann Nazarevich, Director; Jason Sydor, Secretary; Dr. Walter Kowalchuk, President; Stephan Bodnar, Vice-President; Segey Lavrinenko, Treasurer; Luba Kowalchyk, Director; Vlodko Boychuk, Director; Missing: Sasha Simcisin, Director. Photo: Marco Levytsky
Marco Levytsky,
NP-UN Western Bureau
Dr. Walter Kowalchyk was elected President of the Ukrainian Canadian Professional and Business Association of Edmonton (UCPBAE) at its Annual General Meeting, held at the Chateau Louis Conference Cengtre, May 17.
He succeeds Ilija Simcisin who will continue to serve on the Executive as Past president.
Other members elected to the Executive and Board are: Stephan Bodnar, Vice-President; Segey Lavrinenko, Treasurer; Jason Sydor, Secretary; Vlodko Boychuk, Director; Luba Kowalchyk, Director; Alann Nazarevich, Director; and Sasha Simcisin, Director.
"I am honoured to have been appointed as the new president of the Ukrainian Canadian Professional and Business Association of Edmonton," Dr. Kowalchyk commented. "I look forward to working with our members to continue to deliver value, new opportunities and to bring back Ukrainian Professionals into the association."
Dr. Kowalchyk is a seasoned professional with years of experience in the Educational Leadership and Business worlds and is highly regarded within the business community for his leadership coaching and strategic vision.
From a young age, he has seen himself as both an educational leader and an entrepreneur, having started many different businesses such as a music promotions company, a photography studio, a food truck, and a used computer store. After completing his Higher Educational Doctorate from the University of Liverpool, U.K. he left the world of public education where he was a school principal for many years towards a world of academia and to focus on building out his companies.
Dr. Kowalchyk is not new to building strong organizations from the position of President or Vice President in many local and provincial Ukrainian organizations over the years. His largest Volunteer portfolio was introducing a vibrant Robotics program to Western Canada in 2000 for students aged 6 to 18. Over 4000 yearly participants and volunteers benefited from his vision and leadership in bringing a 'sports for the mind' robotics competition in 8 cities that continues to drive many of its alumni into STEM-related fields. He continues to hold the position of Executive Director in the Alberta Youth Robotics Society but has stepped down in recent years from the organizing and running of tournaments.
In 2016, Dr. Kowalchyk combined his expertise in Leadership Coaching with his entrepreneurial spirit in his company Reimagineering.com which remains a professional leadership resource working towards increasing efficacy in all employees and leadership levels through various bespoke programs. He started Theiscoach.ca in 2018, a professional resource for Master's and Doctoral Degree students worldwide for pacing and providing direction while in the thesis stages of their degrees. Dr. Kowalchyk also contracts out to Universities for program development and instruction.
For the upcoming year, Dr. Kowalchyk's vision includes the launch of several new initiatives, including educational opportunities that will better equip members to tackle the ever-changing business landscape. Creating new programs that support the dreams of new Ukrainian immigrants to Alberta who always wanted to own and operate a business in Canada! He also intends to work closely with the association's executive team to provide members with greater exposure to networking opportunities, both online and in-person, in order to help them create new connections and grow their client base.
"We live in a rapidly evolving business climate, and it's essential that we provide our members with the resources, knowledge, and networking opportunities they need to succeed," says Dr. Kowalchyk. "I am excited to help drive the organization forward and ensure that our members have the competitive edge they need to thrive in today's market."